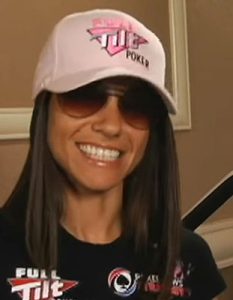 Maya Geller has proven over the years that she's more than a pretty face. Some gambling enthusiasts admire her as someone who's trying to find her feet in the male-dominated world of poker. Others only perceive her as the wife of Patrik Antonius — a professional poker player from Vantaa, Finland, who currently resides in Monte Carlo. You know, the man who's been attracting everyone's attention because of his looks and natural affinity for this card game. Yet, they fail to see that she's not defined by Patrik or his career — she has a lot to offer on her own.
Admittedly, this poker player, originating from Encino, California, is still waiting for her big break, but it's the zeal and effort that count. And she certainly doesn't seem to be lacking in either of these two — she tries her best to participate in as many games as possible. Who knows, maybe one day she'll top Vanessa Selbst — one of the best female players who has won three World Series of Poker bracelets and earned $11.8 million. Maya Geller has none, and she has earned considerably less during her time at the table.
Nevertheless, she frequented this tournament in the past — both in order to participate and to support her husband in his endeavors. Geller was in full swing during the late 2000s but seems to have slowed down in the past few years. However, there are no talks of her retiring as of yet. We'll see what the future will bring for Geller.
Poker's Power Couple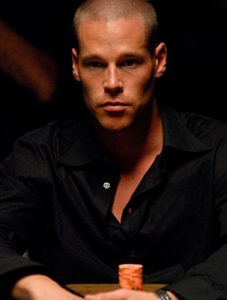 Like some other poker players, Antonius and Geller seem to keep their private life just that — private. Nonetheless, it's a known fact that they have two children together. And they exchanged the hustle and bustle of Las Vegas for Monte Carlo recently. But prior to becoming parents and settling in Monaco, their charismatic chemistry used to take center stage wherever they went. People even went as far as dubbing them the Brad Pitt and Angelina Jolie of poker.
From his part, Patrik has made a name for himself in online poker. His natural skill helped him acquire millions of dollars, and he didn't only settle for showing off his abilities on the Internet. He participated in a vast number of poker tournaments where some of his opponents were even intimidated by him. Regardless of his notable success, he shares one more thing with Maya Geller. Namely, he is yet to win a WSOP bracelet. Many say that the reason for this is his passionate love for cash games.
During one interview, Maya commented on the difference between their approaches. She said that Patrik is more aggressive and keeps on pushing. In contrast, she described herself as being a rather "passive" player — a trait which is easily noticeable by others at the table. According to her, this might be the reason why she doesn't often emerge as a winner after a game. As for her husband, he usually gets farther because of his competitive nature — perhaps a quality she needs to obtain in order to dominate the tournaments.
The couple was seen together during the 2008 WSOP, both showcasing their poker prowess individually. This turned out to be one of the best tournaments for Geller. At one point, she even earned more chips than her famous husband did. Maya reflected wryly on this fact by saying that they had agreed on the last longer bet. This is a popular wager during live tournaments by which players agree that the person who lasts the longest takes the real money. Of course, it could be that Geller was only joking.
Antonius' Career
Patrik Antonius was born in December 1980, in Helsinki, Finland. started off as a model in Vantaa, and before he joined the European poker scene, he was actually a tennis player. Later, as an already former tennis player, he took up coaching.
Antonius was introduced to professional poker by Marcel Luske. The member of Circle of Outlaws taught Antonius the craft of this card game, and the Finnish received further education from Jennifer Harman, another professional poker player. The first two tournaments he played poker at were European Poker Tour (EPT) and World Poker Tour (WPT), where he finished 12th and 15th, respectively.
In 2005, he participated at the final table at the Main Event European Poker Tour in Barcelona. Antonius' first $1-million prize came in December 2005, when he successfully participated in WPT Five Diamond World Poker Classic in Las Vegas, Nevada.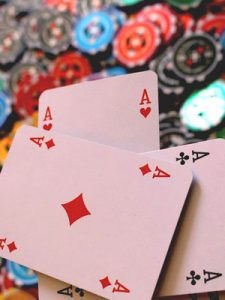 As is the case with many other professional poker players, Antonius often participates in online poker tournaments and is a member of Team Full Tilt, where regular players at Full Tilt Poker can chat with the pros. Antonius earned a large part of his net worth (estimated at $32 million) playing online. In fact, in 2009, he won the largest pot in online poker history against Viktor Blom, when he won just under $900,000 in a single hand of Omaha.
Maya Geller and Patrik Antonius didn't reveal the actual date when they got married, but we know that they have two children. In the wake of 2019 EPT Monte Carlo, Antonius talked about his own poker tournament and his ambitions to change some rules of how they organize poker tournaments.
Geller's Earnings
As a high-stakes poker player, Antonius dominates the gambling world, which is reflected in his net worth, which amounts to $12 million. Frankly, this figure can make Geller's earnings pale in comparison. However, as she's not as active in this world as he is, one cannot help but admire her for her results. Let's look at some of them:
€1,100 No-Limit Hold'em: $1,123
$1,500 No-Limit Hold'em Monster Stack: $5,566
$1,000 No-Limit Hold'em: $2,511
The mentioned sum of $5,566 is her best live cash prize, and her live earnings in total are $23,358. Not long ago, she was seen during the 2018 PokerStars EPT Prague. Here, she was doing well for the better part of the game. But at one point, as she was going all-in, her opponent prevailed over her with a stronger hand.
She even engaged in several rounds of poker during her husband's namesake — the Patrik Antonius Poker Challenge, which was held in Tallinn, Estonia. She showed her skills in this €1,500 Main Event. In April 2019, she took 72nd place and won $3,080 in 2019 EPT Monte Carlo.
The Participation of Geller in the Tournament 2019 888poker Live Barcelona Festival
When it comes to Maya Geller's participation in the 888poker LIVE 2019 tournament in Barcelona, she was eliminated in the first level of the day, along with Tarmo Tammel and Fabien Motte. At the end of the day, her chip count was 79,000, and her loses were a total of -5,100.
Geller had a favorable turn of with K♠ K♦ 2✤ 6♥ 36,000 in the middle, and she went all in. Petru Tarlev had a seemingly-equal hand and met her bet. In the end, Geller's hand K♥ Q♠ prevailed over Tarlev's K✤ 9♥.
She scooped up a total of $31,600.
Geller's Ranking
This rising star of poker from the United States takes 8,601st place at the popularity ranking list. On the Global Poker Index Ranking list Geller is 18,447th.
As far as her earning goes, she is 34,020th at the United States All Time Money List and 6,743rd at California, USA All Time Money List. Her best rank at the All Time Money List is 65,826, and her current rank si 68,094.
All the Tournaments in Which Geller Took Part
| Date | Country | Event | Place | Buy-In | Prize | GPI Points | POY Points |
| --- | --- | --- | --- | --- | --- | --- | --- |
| 2019-08-23 | Spain | €550 No Limit Hold'em - EPT Cup (Event #12) | 194th | €1,420 | $1,574 | 64.27 | 64.27 |
| 2019-01-02 | Spain | €220 No Limit Hold'em - Ladies Event | 3rd | €1,085 | $1,212 | — | — |
| 2019-03-26 | Monaco | €1,100 No Limit Hold'em - French National Championship (Event #4) | 72nd | €2,750 | $3,064 | 111.03 | 111.03 |
| 2019-03-02 | Estonia | €100 + 10 No Limit Hold'em - Hyper Turbo (#15) | 4th | €380 | $426 | 25.30 | 33.73 |
| 2018-08-31 | Spain | €550 No Limit Hold'em (Event #28) | 71st | €960 | $1,121 | 22.74 | — |
| 2018-05-01 | Monaco | €1,100 No Limit Hold'em #25 | 15th | €4,600 | $5,566 | 49.20 | — |
| 2017-26-01 | United States | $500 + 65 WPT500 Main Event | 184th | $500 + 65 | $900 | 5.08 | — |
| 2016-01-24 | United States | $1,500 No Limit Hold'em Monster Stack (NO re-entry) (Event #41) | 797th | $1,500 | $2,511 | — | — |
| 2012-01-24 | United States | $1,000 No Limit Hold'em (Event #44) | 65th | $1,000 | $5,149 | — | — |
| 2012-01-17 | United States | $1,000 No Limit Hold'em (Event #33) | 295th | $1,000 | $1,83 | — | — |
It's Still Not the End
With the spotlight on feminism, there's been an intense debate among pundits as to why we don't see a lot of female poker players. More often than not, their opinions vary. Nevertheless, they are hopeful that we all are going to see more women during tournaments, including the popular WSOP main event. For the time being, it remains to be seen just how far ladies will go up the world poker ladders. Geller's husband is a prime example that female poker players have their place under the poker sun, as Antonius learned the ropes from Harman.
As we've already mentioned, Geller was more active in the previous decade. If you take a look at Maya Geller's bio, you'll see that in the previous four years, she participated in only six tournaments. While she seemingly devoted herself to family life, Geller is still someone whose face pops up in poker news.
What the Future Holds
Hopefully, she'll go back to being more present at tournaments, increasing the number of active women who can compete at the highest level. Perhaps her husband can help her develop the competitive side of her gameplay and she learns how to go into a match aggressively.
If successful, there's no reason why Geller wouldn't join the likes of Kathy Liebert, Vanessa Selbst, and Annie Duke, who represent the creme of female poker players. All of them have won millions of dollars playing this card game, and Geller has the potential to add to her family's already extensive wealth.
Regardless of whether you'd dub Geller a good player or not, you have to admire her for one thing — she's trying to make a name for herself in a world where not many women had done it before her. No matter if she succeeds or not, at least she's willing to attempt it. Proving, along the way, that she's more than just a wife of a famous poker player.
Most Popular Questions About Maya Geller
[select-faq faq_id='212′]
[select-faq faq_id='213′]
[select-faq faq_id='214′]
[select-faq faq_id='215′]
[select-faq faq_id='216′]