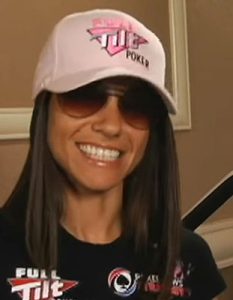 Maya Geller has proven over the years that she's more than a pretty face. Some gambling enthusiasts admire her as someone who's trying to find her feet in the male-dominated world of poker. Others only perceive her as the wife of Patrik Antonius — the insanely successful Finnish poker player. You know, the man who's been attracting everyone's attention because of his looks and natural affinity for this card game. Yet they fail to see that she's not defined by Patrik or his career — she has a lot to offer on her own.
Admittedly, she's still waiting for her big break, but it's the zeal and effort that count. And she certainly doesn't seem to be lacking in any of these two — she tries her best to participate in as many games as possible. Who knows, maybe one day she'll top Vanessa Selbst — one of the best female players who has won three World Series of Poker bracelets and earned $11.8 million. Geller has none, and she has earned considerably less during her time at the table.
Nevertheless, she frequented this tournament in the past — both in order to participate and to support her husband in his endeavors. Geller was in full swing during the late 2000s but seems to have slowed down in the past few years. However, there are no talks of her retiring as of yet. We'll see what the future will bring for Geller.
Poker's Power Couple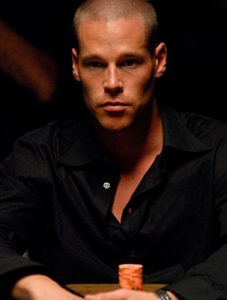 Like some other poker players, Antonius and Geller seem to keep their private life just that — private. Nonetheless, it's a known fact that they have two children together. And they exchanged the hustle and bustle of Las Vegas for Monte Carlo recently. But prior to becoming parents and settling in Monaco, their charismatic chemistry used to take center stage wherever they went. People even went as far as dubbing them the Brad Pitt and Angelina Jolie of poker.
From his part, Patrik has made a name for himself in online poker. His natural skill helped him acquire millions of dollars, and he didn't only settle for showing off his abilities on the Internet. He participated in a vast number of poker tournaments where some of his opponents were even intimidated by him. Regardless of his notable success, he shares one more thing with Geller. Namely, he is yet to win a WSOP bracelet. Many say that the reason for this is his passionate love for cash games.
During one interview, Maya commented on the difference between their approaches. She said that Patrik is more aggressive and keeps on pushing. In contrast, she described herself as being a rather "passive" player — a trait which is easily noticeable by others at the table. According to her, this might be the reason why she doesn't often emerge as a winner after a game. As for her husband, he usually gets farther because of his competitive nature — perhaps a quality she needs to obtain in order to dominate the tournaments.
The couple were seen together during the 2008 WSOP, both showcasing their poker prowess individually. This turned out to be one of the best tournaments for Geller. At one point, she even earned more chips than her famous husband did. Maya reflected wryly on this fact by saying that they had agreed on the last longer bet. This is a popular wager during live tournaments by which players agree that the person who lasts the longest takes the money. Of course, it could be that Geller was only joking.
Geller's Earnings
As a high-stakes poker player, Antonius dominates the gambling world, which is reflected in his net worth, which amounts to $12 million. Frankly, this figure can make Geller's earnings pale in comparison. However, as she's not as active in this world as he is, one cannot help but admire her for her results. Let's look at some of them:
€1,100 No-Limit Hold'em: $1,123
$1,500 No-Limit Hold'em Monster Stack: $5,566
$1,000 No-Limit Hold'em: $2,511
Apart from this, some reports claim that her best live cash earnings were $32,166. Not long ago, she was seen during the 2018 PokerStars EPT Prague. Here, she was doing well for a better part of the game. But at one point, as she was going all-in, her opponent prevailed over her with a stronger hand.
She even engaged in several rounds of poker during her husband's namesake — the Patrik Antonius Poker Challenge, which was held in Tallinn, Estonia. She showed her skills in this €1,500 Main Event.
It's Still Not the End
With the spotlight on feminism, there's been an intense debate among pundits as to why we don't see a lot of female poker players. More often than not, their opinions vary. Nevertheless, they are hopeful that we all are going to see more women during tournaments, including the popular WSOP main event. For the time being, it remains to be seen just how far ladies will go in this world.
Therefore, regardless of whether you'd dub Geller a good player or not, you have to admire her for one thing — she's trying to make a name for herself in a world where not many women had done it before her. No matter if she succeeds or not, at least she's willing to attempt it. Proving, along the way, that she's more than just a wife of a famous poker player.